Daily Zen Library
Bankei Zen
The eccentric Bankei has long been an underground hero in the world of Zen. At a time when Zen was becoming overly formalized in Japan, he stressed its relevance to everyday life, insisting on the importance of naturalness and spontaneity. This volume presents his teachings–as refreshing and iconoclastic today as they were three hundred years ago–in a fluent translation by Peter Haskel, accompanied by a vivid account of Bankei's life and tiems, illustrations, and extensive notes for the scholar.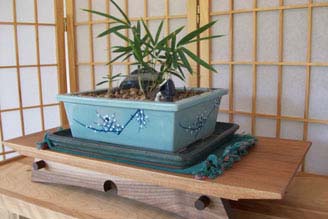 Bonsai Display – custom ordering only
22 1/2 inches long x 10 1/2" wide x 3 1/2" high Handcrafted with all wooden fittings, this table provides a truly elegant home for your favorite bonsai or larger statues. The top is cherry with a walnut base and cross pieces. So muc...
Details »