Welcome to the Instruction Hall, featuring talks on meditation technique, pitfalls, and encouragement given to students of past masters. These have been taken from the Archives of the Daily Zen Journal and are a suitable starting place for the beginner and the experienced practitioner alike.
This is our initial offering, and we plan to add more from the archives over time.
Practice of Meditation
Many are just beginning practice, and for those who have practiced for years, Dogen's piece on meditation has points that even the "advanced" students have not mastered.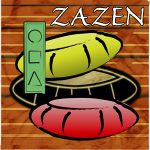 Zen Mind, Beginner's Mind
People say that practicing Zen is difficult, but there is a misunderstanding as to why. It is not difficult because it is hard to sit in the cross-legged position, or to attain enlightenment. It is difficult because it is hard to keep our mind pure and our practice pure in its fundamental sense.